David Scheinbaum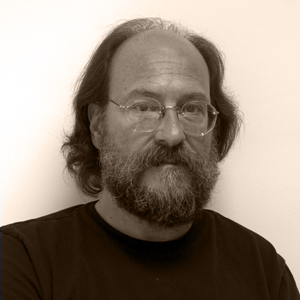 David Scheinbaum's work will be featured in our upcoming exhibit Through Outsiders' Eyes. 
David Scheinbaum  is Anne and John Marion Professor and Chair of the Photography Department at the Marion Center for Photographic Arts at the College of Santa Fe. David's photographs of New Mexico's Bisti Badlands can be found in his book, Bisti (University of New Mexico Press, 1987).
In 1990 Florida International University Press published Miami Beach: Photographs of an American Dream. He and his wife, Janet Russek, have collaborated on two projects, Ghost Ranch: Land of Light, Photographs by David Scheinbaum and Janet Russek (Balcony Press, 1997) and Images in the Heavens, Patterns on the Earth: The I Ching (Museum of New Mexico Press, 2005). His most recent publication, Stone: A Substantial Witness, was published in fall 2006 by the Museum of New Mexico Press. His current photographic work concentrates on documenting Hip Hop music and culture. This work, currently on exhibit at The National Portrait Gallery of the Smithsonian Institution, is entitled Recognize: Hip-Hop and Contemporary Portraiture.
David worked with the preeminent photo historian Beaumont Newhall from 1978 until Newhall's death in 1993 and continues as co-executor of his estate. With Janet Russek he operates Scheinbaum & Russek Ltd., private fine art photography dealers and consultants in Santa Fe, NM. Established in 1980, Scheinbaum & Russek's services include appraisals, auction evaluations, brokering collections, collection development, consulting, curating, lectures and workshops. Scheinbaum & Russek maintains an inventory of contemporary and vintage twentieth century photographic works as well as exclusive representation of the estates of Beaumont and Nancy Newhall and Eliot Porter.
David has exhibited internationally and is represented in many museum collections including The Museum of Fine Arts (Santa Fe, NM), The Amon Carter Museum (Fort Worth, TX), The Bibliotech Nationale (Paris, France), The Brooklyn Museum (Brooklyn, NY), The Corcoran Gallery of Art (Washington, DC), The Museum of Fine Arts (Houston, TX), The Center for Creative Photography (Tucson, AZ), and The Harry Ransom Center at The University of Texas, Austin.